Hello, thank you for visiting my site and signing up to the newsletter. This is meant to be an informational email that will be sent occasionally on unique sandblasting processes. You may unsubscribe at any time by clicking the "unsubscribe link" at the bottom of each email.
If you have not sign up to the newsletter, do so by entering your name and best email address in the right sidebar.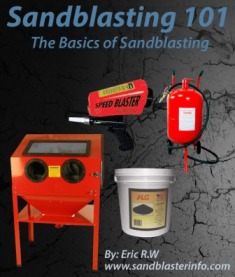 As a complimentary gift, I am providing this free ebook called "Sandblasting 101: The Basics of Sandblasting". I just wrote it in 2014 to answer some of the many questions I receive from subscribers.
It provides information on:
How a sandblaster works
Types of Sandblasters & sources
Abrasives & grit sizes
& More!
Download: Click here to download your free copy!
Save it: Remember to save the ebook to your computer. You can do this by right clicking the link & hitting "Save As".
Share It: Please feel free to share this with others.
You may also leave a comment or question below about sandblasters. I intend to update this with more information at times based on questions people ask me. All new versions of the ebook will be sent to people on my newsletter. Thanks
---
Share this on social media or email by clicking below!