Sand is available everywhere, it's plentiful, and cheap. So can I use it?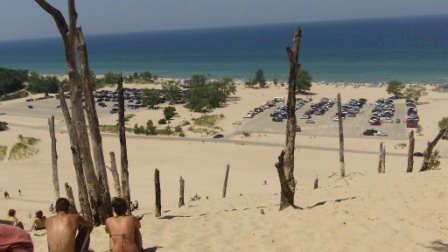 Let's face it. Sandblasting abrasive can be expensive when using the approved type, and regular sand is so incredibility abundant in places like the sand dunes shown in the photo. The photo of this enormous sand dune by the way is from a weekend vacation I took in late 2010 summer. The place is called Warren Sanddunes or Warren Dunes National Park which is located in Michigan. If you ever get a chance, go check them out. Michigan has quite a few different dunes to visit which border the lake.
When I went to this place, it made me think about how amazing it would be use some of this sand for my sandblaster.  I would never have to worry about wasting or buying abrasive again!
I have heard that some people living by sand beaches will actually use the sand for their sandblasting equipment. Well, the whole point of this blog post is to show you how cool these dunes are, but then to express that you shouldn't use this type of sand even if it is so plentiful.
As I talked about before, regular sand has a lot of silica in it and can cause a serious hazard to your lungs known as silicosis.  Some might think that if you wear professional air provided sandblasting helmets, that you will be okay but I am still saying that you should not risk it.  Even if you wear the best breathing apparatus out there, you're still going to get exposed to some silica.  If you take off your helmet, you will still have dust fall off your clothing and helmet, then breathed in when you inhale.  Don't do it.  I'm just looking out for my fellow man or woman!
Saving a few bucks here and there isn't worth putting your life into jeopardy.
---
Share this on social media or email by clicking below!