You should know that sandblasting can be extremely dangerous.  Seriously, when working with it, you should not be "macho" and think that safety isn't that important.  I used to be like this when I was working on cars as a teenager.  Below are some safety items that you be knowledgeable about before you start sandblasting, along with details on the harm blasting can do if you don't take these precautions:
Dust Masks

Even if the abrasive dust doesn't seem to be harming you, it might be.  What I am talking about is getting silicosis.  You have to wear, at the minimum, a dust mask.  The dual respirator filter mask is better, but at least wear a cheap dust mask.  It's better than nothing.  When abrasive hits the surfaces of items, it creates dangerous dust which kills your lungs when inhaled.  Also, this goes along with silicosis prevention: DO NOT USE PLAY SAND TO BLAST!  Only use authorized blaster abrasive when operating.  Play sand has a high amount of silica that can do massive damage to your lungs.  It's not worth it and I urge you to read my post about this here.  You have been warned.
Safety Goggles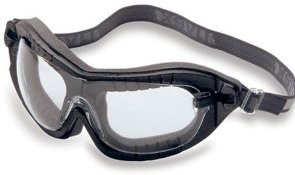 I recommend that you wear safety glasses or goggles and you may even want to wear them while using a sandblasting cabinet.  Especially wear them when you are blasting in a room or outside.  Air-supplied helmets are safer for you in these situations.
Protective Clothing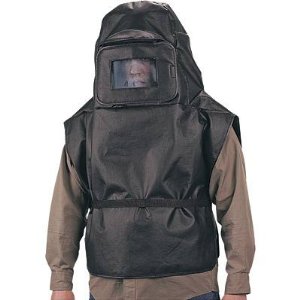 It's best to wear long sleeve shirts and long pants when using while operating.  You never know when a hose will explode or blast off.  In the past, my hose shot off from the bottom of my pressure pot sandblaster, and luckily the stream of high-powered abrasive didn't hit me.  This would be even worst if it got in your eyes.
If you have access to professional sandblasting suits, then I would definitely go with that.
You have been warned.  Please leave a comment or ask me any questions below.
---
Share this on social media or email by clicking below!