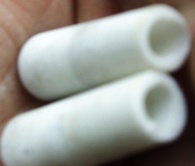 A while back I created a video about sandblasting tips and I showed a source of cheap ceramic tips that you could use.  I was hoping this would help save me and the rest of my subscribers money.  But it turns out that these cheap ceramic sandblaster tips that I recommended before wear out way too quick!
After using them longer than before, I really realized how quickly they wear out.  This sucks because the quicker the nozzle tip wears out, the more frequent I have to stop in the middle of sandblasting something and replace it. This becomes annoying!
Am I mad at how quickly these wear out?  Well, not so much because they were really cheap.  So lesson learned and I want to warn you that they are cheap for a reason.  You are much better off paying for a ceramic nozzle tip that costs 3 times more so you don't have to keep replacing them.
I took a picture above of the worn out ceramic tips to show you how they deteriorate within 5 minutes. And another one is below which shows you the top view through the inner diameter of the nozzle tip.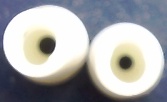 Better yet, if you sandblast often or for long durations (longer than 20 minutes), I suggest that you get a longer lasting nozzle tip other than ceramic as suggested in the previous video.
If you liked this post, please leave me a comment below.  Thanks
---
Share this on social media or email by clicking below!