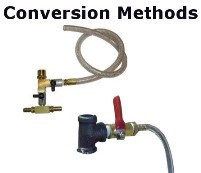 If you aren't aware, in contrast to regular highly abrasive media sandblasters, the soda blaster is much better for blasting precise parts and items that tend to warp during the cleaning process. Many people use soda blasting for cleaning soft metals such as aluminum, engine parts such as car cylinder heads, or even sheet metal because the thin metal can warp from the heat developed by the other sandblasting methods.
The problem most people have is that they already have a pressure pot and don't want to buy an additional soda blaster. So here are some tips on converting a sandblaster into a soda blaster. And as asked by a visitor, you can make a soda blaster from my plans by adding the part suggested here.
Buying a Conversion Kit
Before I get into the steps on how to convert it, as I discussed in this post before, you should first know that companies sell conversion kits here: http://amzn.to/wyCBSz.
I don't know why these kits are so expensive because you can make them yourself easily with a few inexpensive parts. I think I even saw them for sale on Harbor Freight for about $20.
Modifying the Sandblaster into a Soda Blaster Yourself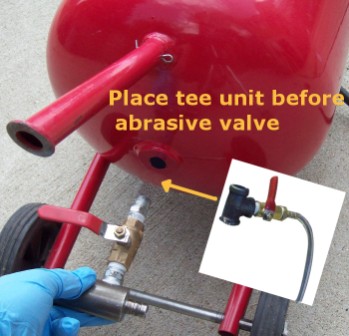 If you look at the conversion kits and read the instructions, all they are is a replacement assembly abrasive valve with a slightly smaller diameter. And they have another valve with a hose perpendicular placed inline before the abrasive valve. They call this the purge valve which is suppose to be opened when there are clogs and is used to drain the soda abrasive. Manufacturers recommend soda abrasive to be drained when you are done using it since it shouldn't be left in the tank for long periods of time and can "cake" up.
My idea to convert your current sandblaster into a soda blaster as shown in the picture is to simply install a NPT pipe tee before the abrasive valve and add another valve to the side with a tube. Although I haven't tested this yet, I believe the larger size of the valves on the current sandblaster is irrelevant.
If you'd like to try this or find that the soda abrasive works best with the smaller valves, please leave me a comment below. Thanks and feel free to ask me any questions.
---
Share this on social media or email by clicking below!