Note: You can now purchase and download the sandblaster plans here.
First off, I wanted to thank all my visitors and newsletter subscribers for coming to my site about sandblasting, glass etching, and car restoration.
There have been a lot of people asking me how I made my own sandblaster so I have been working on creating plans for pressure pots the last few weeks so others can do it as well.  In the next few days when they are completely finished, they will be offered here through my site. You can see a rough picture of the homemade sandblaster below before it was painted below: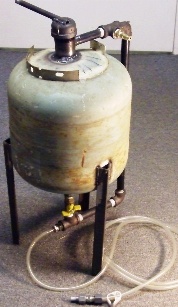 I have packed these plans with a lot of great information which I believe answers all questions that people have been asking me for the past couple of years.  This includes information with bonus topics that cover:
how to pick out the right air compressor for my needs
explanation on the different types of air compressors
expanded information on abrasive & design problems
and sandblasting safety.
On top of that, I included information on how to make my inexpensive and favorite sandblaster nozzle which you can see in the picture. It shows you sources of where to get the materials and pictures of all the steps.
The reason for this post is that I wanted your input and for you to ask any questions you have.  I will try to answer them below so please leave a comment and I will do my best to help.  This helps me as well because it shows me what information people really want to know.  Then I can take that input and make these plans extremely helpful for everyone.
SO please leave a comment and questions below!  Thanks
---
Share this on social media or email by clicking below!