Wet sandblasters are basically units that combine water, abrasive, and pressurize them so that the solution can be blasted at high velocities.
Reason for Combining Water with Abrasive?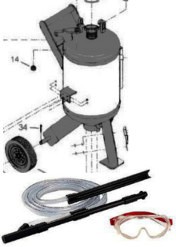 With traditional sandblasting systems we used dry blasting. This does the job well, but it is a constant nuisance to control dust and prevent it from entering our lungs which can cause silicosis. When water is mixed in with the abrasive, the dust in contained in water droplets.
I know the whole idea of combining moisture with our powdery like abrasive seems crazy, especially since many of you are trying to prevent clogging problems with my ebook, it is possible when mixed right. Of course you are going to need the right equipment for this to work which I have wrote about specifically in each link below:
Those are the two wet sandblasting types that are used. Although they both use water to mix with the abrasive, they each operate in a completely different manner. The pressure washer sandblaster compresses the water before abrasive is mixed in. The dustless sandblaster uses a air compressor to pressurize the slurry with everything pre-mixed.
Is one better than the other?
Since I haven't had experience with either of the wet systems yet, I honestly couldn't tell you. Based on reviews I have seen for the pressure washer kits, I would imagine the other type is better. This may be because of brand quality though.
Read more about each type, along with kits, etc in the links above.
---
Share this on social media or email by clicking below!