I got this recent questions about someone wanting to fill in holes with a sandblaster and thought it was a good idea. So I decided to post the discussion here with suggestions and how you can do it inexpensively.
Hello, I own a craftsman 1hp 3gal. air compressor,the plastic hose is cheap and developed a leak,so I am looking to buy 50ft of rubber hose with couplings. The reason I'm sending this is that I want only to buy minimally now, until I move. I can see great value in having a big air compressor and air tools,my dad had them and my sister took the unit as part of Her and her husbands inheritance. My real immediate purpose is to use a sandblaster or siphon kit to attach to the small compressor I have in order to blast clean sand into woodchuck tunnel/holes. I bought clean sand,not play sand, from Home Depot in 50lb bags first. I used that before for this purpose. However they dug a horizontal tunnel in each side of driveway. I don't know if they went all the way through both sides,but I want to fill these holes/tunnel with sand and cover so it wont happen again. Do you think I can get away with just buying a sandblasting kit,and use my 1 hp comp? Also will sand I have do or will I need other sand or nozzles or what? Thank you very much for your assistance! Randy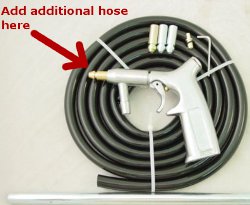 Hi Randy,
A 1 hp air compressor sounds a little small to run a sandblaster. But it most likely will work okay for what you are doing with it if you are just aren't actually abrading anything. It might take some time to fill the hole though regardless of the air compressor size.
In my opinion, if it's a typical driveway at the width of car, then I would just pour the sand in the hole and pack/ push it under the driveway with some type of long rod. Then maybe put a half bag of concrete on each side to cap it off. If you do it this way, you might have to dig a clearance hole around the driveway.
If that's not feasible, then you might want to check out this cheap sandblaster (http://amzn.to/RO4APq ) which is also shown in the picture on the left. Then you could buy and hook up another cheap tube onto the nozzle. This will allow you to shove it as far down the hole as you can so that abrasive gets way back there. It works basically by sticking one hose end into the sand bag and then hook it up to an air line. This is a siphon unit which you can read about here: http://www.sandblasterinfo.com/equipment/siphon/
---
Share this on social media or email by clicking below!