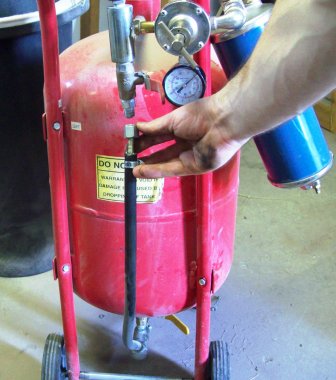 So a while back I hooked up a aftermarket water separator filter which you can see is the blue canister in the picture. Well me being stubborn at times, I never mounted the canister correctly onto the pressure pot. So the large separator was dangling there, pulling down on the manifold and putting pressure onto the hose making somewhat of a kink.
Through time this small kink lead to a air leak. Bummer! Anyway, you could replace it or if the leak is near the end, you can cut off the part with the hole. This is what I did and wanted to share how I did it so you don't have to buy a new one.
Basically, these rubber hoses are connected to a barbed fitting with a permanent metal clamp around it. All you have to do is grind off the metal clamp collar. Follow the steps below:
Trim off the hose right before the hole with a knife.
Grind off or cut off metal collar with a angle grinder or rotary tool (such as Dremel tool or RotoZip)
You will see a a barbed fitting underneath the collar.
As long as you still have enough hose to reach up, you can connect it back onto the barbed fitting, then use a hose clamp.
In the photo you can see me connecting the newly trimmed off and fixed hose. I held up the parts so you can see the barbed fitting with hose clamp, and where it goes. I hope this tip helps someone. If not now, eventually it may so keep this in mind. I'm sure I will get another 5+ years out of this hose. You could also rig up a metal hose with a union. Have any questions? Please leave a comment below!
---
Share this on social media or email by clicking below!