Posted 9/26/2013 Hello everyone- another person contacted me to let everyone know about his sandblasting equipment setup that he is selling which can be used for decorative carving & etching. It's a pressure pot, so it will work well on glass, stone, wood, or whatever…
He sent the photos and description to me below. I made it so that you can click on the image to see an enlarged version of the photo. It will open up in a new window.
Sandblasting & Stencil Equipment For Sale: $950.00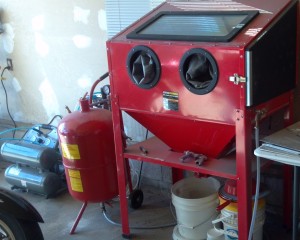 $950.00 for:
cabinet
sand tank
pancake compressor
light for exposing film media
film
assorted glass for etching stone, wood, or glass
You will need nothing else. Moving out of state.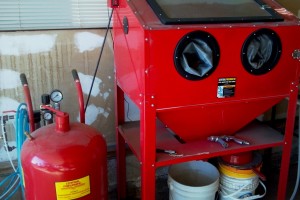 Located in Sandusky, Ohio. Pickup only. Contact piplayer53@aol.com or 419-271-0255
I am not affiliated with this. I just offered to place his classified ad and let all you fine folks know! Please feel free to leave any questions in the comments section below or contact him as indicated above. Thanks
-Eric
---
Share this on social media or email by clicking below!