Like we have said before, you need a cabinet if you want to reuse your abrasives and when its a abrasive that can be reused over again, then this is a good idea.  If you don't want to spend any money on a sandblaster cabinet, then you can always make one.
Yes, a good old home made sandblasting cabinet just by using old scrap parts that were laying around the house.  You can see in the photo below that I made a cabinet out of some old glass sheets laying around in the back shed, some angle metal pieces from a bed frame, and some scrap sheet metal.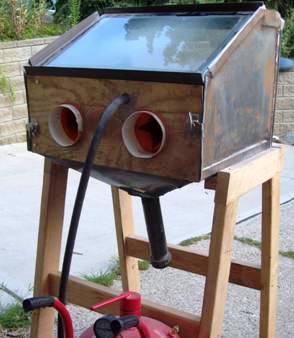 I did have to buy some materials though to make it better later on such as the hinges, metal tube, and sandblaster gloves.  They were all fairly cheap though with a total of about 30 dollars.  It all takes a bit of welding and using a drill to put together.  Not really very hard to do with some sandblaster plans and I will try to put some out soon.
---
Share this on social media or email by clicking below!