If you don't already know, the pressure pot sandblaster hasn't ever had a great nozzle and trigger setup with an easy adjustment for variable flow. In the past, nozzles with variable trigger adjusting were only manufactured for siphon sandblasters. This means that the more you pull on the nozzle trigger, the more the abrasive flow came out. And the amount of abrasive and air pressure could be easily reduced by letting go of the trigger. The spring would allow the nozzle pressure to be variable and this is desired primarily in the glass sandblasting industry.
Now, the pressure pot allowed more power for sand blasters to sandcarve glass deeply into an artistic form, so it was generally used. But the problem was that glass artists wanted to also be able to adjust the pressure for different stages and for lighter shading techniques. The only know person to manufacture a nozzle that could be easily adjusted and used for a pressure pot was Bob Pickard.
I have never used Bob Pickard's nozzle but heard that it works very well. But since it was very expensive, I set off to try and make my own based on inexpensive materials. You can see in the photo below of my homemade variable pressure pot nozzle trigger gun.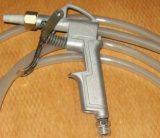 It is still in experimental phase and I will be including my plans as part of the training course. If you are interested in these plans, leave a comment below.
Update:
I still haven't perfected this design to release it yet, but I do show you how to make a similar alternate simpler version of this in my latest downloadable  make your own sandblaster plans. This is shown is part 2 of the ebook.
Alternative Pinch Valve Hose System

We also offer a simpler pinch valve hose system that works in a similar manner as the PAB on Amazon here and is able to withstand higher air pressures.

Similar Operating Foot Valve System

Also, we wrote plans that discusses the same concept that works as good, but it prevents your hand from getting tired with the use of a foot instead to control the on/off shown here.
---
Share this on social media or email by clicking below!