A gravity feed sandblaster is fairly simple and here I will explain the components of how it works with a photo to follow. The gravity feed sandblaster are most known as siphon systems and is one of many different types of sandblasting equipment available that you can use.
Perhaps pressure pots could be classified as gravity feed too because the abrasive flows down to the valve but the term is mostly recognized with siphon systems. So now I will explain the anatomy of it and how it works.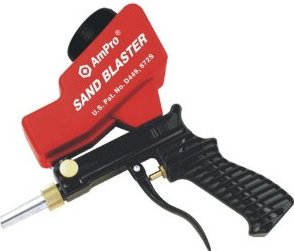 There are two distinctive parts of the gravity feed sandblaster which consists of the hopper and the handheld gun which are further explained below. You can see this in the photo example by a company called AmPro.
Hand Held Gun– The gun is the main part of the blaster which is comprised of the nozzle, trigger, and handle. In the photo its simply the black handle.
Hopper– The hopper is the container on top of the gun which holds the abrasive for blasting as shown in the photo red in color. Obviously, its called a gravity feed because its located on top and the abrasive flows down due to earth's gravitational pull.
This type of sandblaster works very simple. Essentially, the air hose is connected to the handle which has an internal passage to the nozzle in the following steps:
Once the air is inside the gun, it first hits the trigger valve which it is always closed until someone squeezes the trigger.
When the trigger gets squeezed, the valve opens up allowing the air to come in contact with the hopper area.
The hopper drops the abrasive down into the main air passage.
Then the air comes in contact with the abrasive which forces it out the nozzle.
That's all it is and if you have any questions leave them below.
---
Share this on social media or email by clicking below!