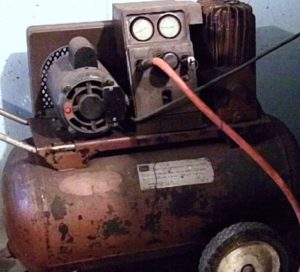 Hey Eric.
My specific question is, my compressor is a 26 gallon tank with up to 150 psi. Will this compressor be able to supply enough air pressure for most any pressure pots? I am not setting up a siphon set up. This will be used mostly for etching glass.
The system I am trying to set up is this:
compressor – 26 gallon tank with up to 150 psi (I have this already – hope it is large enough)
2 inline water filters (one for compressor and one for pressure pot, just want to make sure no clogging occurs, etc., have these)
pressure blast pot (don't have one yet)
inline air gauge (have one)
blasting cabinet (1/4″ inlet hole for grommet and other fittings, bought from Harbor Freight)
Thank you.
Rickey,

One of the most important factors when finding out if the air compressor will keep up with the sandblaster is CFM output.

It also depends on the size of the nozzle that you will typically use. A larger nozzle diameter will require more CFM. I posted a chart about it here: http://www.sandblasterinfo.com/air-compressor-chart/

Thanks!
---
Share this on social media or email by clicking below!