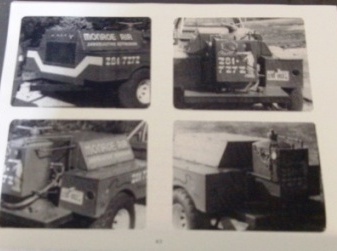 I wanted to reiterate my post that I made before about building your own sandblaster and add some information to it about the idea of starting a mobile sandblasting business.
I also wanted to include another photo from the "Build Your Own Sandblaster" manual which shows what a mobile sandblaster would look like if you did start your own business as shown in the left photo.
As you can see from the picture, the whole sandblasting system is on a trailer which would hook up to a typical hitch of a truck or SUV.
A pressure pot sand blaster system hangs on the back with the nozzle and hose. Piping is rigged and welded in place to supply the air as I explained in the pressure pot sandblaster plans.
Then in front is a car engine which turns the a compressor cylinder which compresses the air. Its an interesting setup but now lets discuss starting a business.
To start a mobile sandblasting business, I would first see if there is a large enough market in your area.  Small towns may not be ideal but if you live in or near a city, you should be able to find enough people wanting your services.
Here is some ideas that you could market to below.  (If you have some ideas, please comment them below.)
Old rusty bridges
Graphetti removal
Car restoration cleaning
Sandblasting outdoor equipment
Concrete cleaning
Metal building cleaning
Boiler cleaning
Trailer cleaning
Rock Sandcarving or Headstone engraving
Personalized Glass Etching
Please leave a comment below for other ideas you think I could add to the list.
---
Share this on social media or email by clicking below!