A lady named Barbara C. came to my site, emailed me some photos, and was asking some information about this sandblaster that is in her father's shop. I didn't know much about it so I figured it would be a good idea to ask all my subscribers. I told her that it could even be a homemade sandblaster since it uses some of the same NPT tee piping that I used in my homemade sandblaster plans. See the photos below and click on them to zoom in: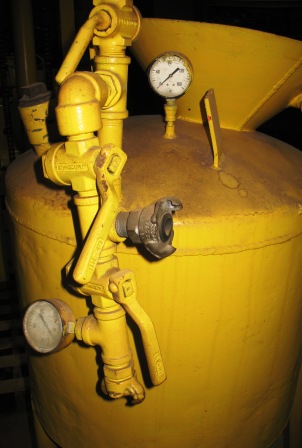 She stated that,
"We found the name PHILA on it, no other identification was noticed".
It looks like an older pressurized sandblaster from 1960's or before. I think the design of the wheels made me guess its probably at least 50 years old. My guess is that PHILA means it was made in Philadelphia since it was a big industrial city- especially in those days.
So what does everyone think? She wants to identify this sandblaster and looking for more information on it. Leave any comments or remarks below.
---
Share this on social media or email by clicking below!