new online rock blasting course here
.
This involves the process of creating designs into stone.  What you do is cut out a stencil from a resistant rubber or vinyl material and blast the area until it cuts a desired depth.  Have you ever seen those large rocks in people front yards with their address marked in it?
Well, this is all done by blasting the rock and is better known as sandcarving.  I talk a little bit about this in the sandblaster plans, tips, and information manual that I wrote up.  The top thing that you need to know is that a pressure pot sandblaster is required to carve the stone because it has high pressures that is needed to get the job down.
Shown below is an small example of a stone that I found in a nearby river.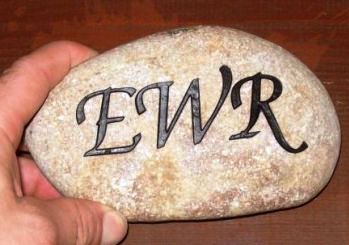 What I did was just cut out a stencil and blasted over the stencil on the rock with about 90 psi (from what I remember).  After that, you can spray paint the carvings to highlight the deep markings like I did.  I used a black spray paint but you can use your creativity with different vibrate colors.
Please leave any comments below or any questions.  Thanks and hopefully I can get some more information up soon.
---
Share this on social media or email by clicking below!

There is a lot more interesting things you can do with your sandblaster that some people don't even think about.  I have been blasting for years and I didn't discover the idea of blasting and sandcarving rock or stone till later on. That hobby turned into working for a business and now to sharing my techniques in the