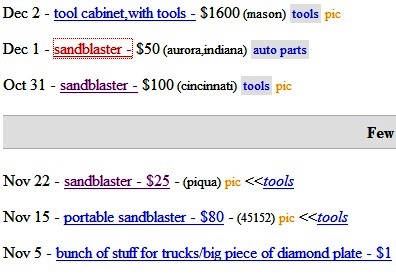 Craigslist is a great place to find a sandblaster for sale. Buying one used can save a lot of money and the good thing is that the main blaster itself doesn't wear out that much. Before you buy one through Craigslist, you might want to inspect the wear on other areas to make sure its not cheaper to just buy one new.
The parts do wear out but most of them can be easily replaced and are fairly inexpensive. The parts you might have to change sometime are the nozzles, the hose, and the mixture valves. The mixture valves are primarily found on the pressure pot which monitors the ratio of sandblasting abrasive to the air. When sand or any grit passes by these valves, through time the abrasives will erode the metal in the valve even at low pressures.
If the abrasive is a softer material, then you might not have to ever replace it.
I do having been checking out Craigslist for sandblasters for the past month and there are quite a few quality ones at decent prices as you can see from the screen capture in the photo. They are usually in the Tools section. This is a good place to start, but you can also rent a sandblaster or buy inexpensive ones like I explained in the information manual.
I am thinking about aggregating and displaying all the current ones for sale through Craigslist. If your interested in this, let me know.
---
Share this on social media or email by clicking below!