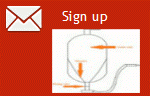 I just wanted to do a quick post to talk a little bit more about the sandblaster email newsletter that I use for those that sign up.
If you haven't recognized, anyone can sign up to the email on the right side of this page. All you need to do is enter your first name and email address. It has to be a valid email address or you obviously won't get any of my tips.
Once you enter your email address, a auto response will be sent to you and you will need to confirm the subscription by clicking the link.
I will not spam you and you can unsubscribe at anytime by clicking the "unsubscribe link" at the bottom of the newsletter. Or you can just contact me and ask to be removed.
If you'd like to find the right sandblaster and don't want to sign up to the email service, you can start by reading about the different equipment available.
---
Share this on social media or email by clicking below!