At last, ways to start sandblasting on a budget that actually works well and fixes abrasive Clog Problems!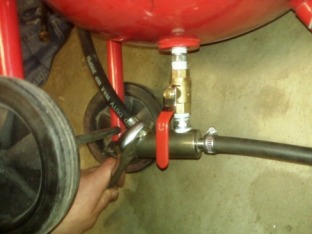 –Save Time, Frustration, & Money
Pressurized Sandblaster Mods-

Step by Step Instructions to fix Inconsistent Abrasive Flow

and where to get a Low Cost Pressure Pot while being effective!

Have you ever bought a cheap pressure pot sandblaster or are thinking about buying one?  Well, if you have, they will save you a lot of money but they have abrasive flow problems.  This sucks, but it can actually be fixed quite easily in 30 minutes or less.
The problem with these is they don't have too bad of quality for the price; really it isn't that bad.  What is bad about them is the design and I show you step-by-step plans of how to easily fix this problem with a few cheap materials that you can get at the hardware store.
So before you buy equipment, you will want to read this manual of where to save money off these inexpensive pressure pot sandblasters and most importantly, how to fix their inconsistent flow problems.
The picture shows my easily modified inexpensive pressure pot that has smooth flowing abrasive, even with very fine abrasive grit.
Inconsistent flow problems are one of the most annoying things about a sandblaster that can really be easily fixed.  So if you have recently bought a pressure pot or are looking at buying one, learn how to fix the problem and save yourself a lot of frustration.
The investment in this info. will not only show you how to save the money but how to make your system as effective as possible.  So before you think about buying an expensive blaster, you will want to read this information.  I'll show you:
Multiple sources to get inexpensive pressure pots at different sizes.

How to easily make them from an okay piece of equipment to a great smooth flowing sandblaster.

Low cost sources for add-on appliances such as an dead man valve.

Guide to other creative things you can do with your pressure pot.

An attached version of the Sandblasting 101 ebook which talks about all types of sandblasters, abrasives, & how each sandblaster works

NEW: More Advanced Modifications for the Pressure Pot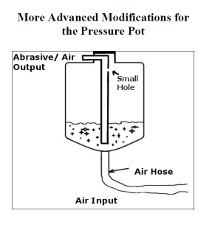 My manual guide is available in a PDF file.  Acrobat Reader is required to open and view the file.  If you don't have it, you can download it free on the internet which I will show you.
There is no shipping fees and you will be directed to a website where the PDF file can be downloaded.
I will be giving this information away at $19.99 for a limited time and then will be selling it with my main course for double the price due to its effectiveness to allow people to have a good working system and save them money.
So far I have only got positive feedback from customers (on another online shopping site).  See the snapshot image I took from my profile below: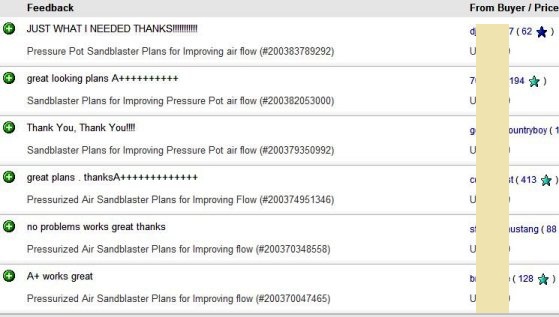 But there's more.  I made some drastic changes since the time I sold it on other shopping cart stores a while back.  Now I have included:
Information for beginners.
Basic information about the different types of equipment.
And which type of blaster is right for your needs.
An Air Compressor Guide.
Next, you will be able to instantly download it by clicking the button below.


100% Risk Free Guarantee:
If this resource didn't provide you with any helpful information and you aren't 100% satisfied with the Ebook, then send me a quick email and I'll happily refund you in full within 60 days. This way you have no risk in getting my ebook!
Questions About the Plans or Need Help with the Build?
Leave them below
---
Share this on social media or email by clicking below!