Foot Switch Plans for Pressure Pot Sandblaster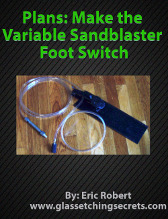 This is a sandblasting footswitch component I have been selling on my other website since it is very desirable for my hobby for etching glass. But it is very helpful for blasting regular items geared more toward smaller pieces that are typically blasted within a cabinet.
The video below explains how it works and what it looks like.
At the moment, I am only selling the plans on how to make these inexpensively. If you are interested in buying the component already made, please contact me.
As stated, this hooks directly up to a pressure pot sandblaster and includes the following benefits:
Saves money on both start up & ongoing cost because the supplies I show you are inexpensive.
It is easy to make with some basic tools.
The unit provides both a comfortable and easy to use solution.
(Major benefit)- it provides the control of a variable flow of abrasive.
Cost for the plans?
The typical collective cost for sandblaster hoses, nozzle parts, adapters, and foot switch controls can cost hundreds of dollars, but through my research and hours of testing alternative parts, these foot switches can be made for about $15 or less. And there is no known foot switch available that also allows you to control the variable flow of the abrasive!
With this in mind, I think you will understand that the information in these plans will do more than show you how to make them easily. It will also save you hundreds of dollars or hours of time experimenting with parts and designing the setup. You get all of this here for only $14.99.
You can buy them here and get immediate access to the downloadable plans after purchase in a PDF ebook form. After payment, you will be redirected to the download page with instructions on how to save the ebook and view it on your computer.
Download the Foot Switch Plans for a Pressure Pot Sandblaster for only $14.99 below:
100% Risk Free Guarantee:
If the plans didn't provide you any helpful information and you aren't 100% satisfied with the Ebook, then send me a quick email and I'll happily refund you in full within 30 days. This way you have no risk in getting my plans!
Questions About the Plans or Need Help with the Build?
Leave them below
---
Share this on social media or email by clicking below!