Make a Mini Sandblaster
Easy to Make
Effective with Unique Design
& Inexpensive to Save Money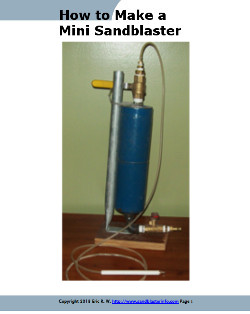 There has been a growing need for mini sandblasters to be used for smaller projects such as precise part cleaning and glass etching with shading techniques. Also, these smaller units are great because they:
take up less space
are easier to maneuver
consume less air
can be used with a smaller air compressor
have a higher blasting power with the pressure pot
Effective Design
After experimenting with many different designs and constantly driving up to hardware stores for testing various parts, I am happy to announce that I discovered an effective design which allows an excellent abrasive flow for even the finest abrasive grit.
Since these sandblasters are often used for very fine abrasive grits, the traditional pressure pot design caused many problems with abrasive flow. So my plans show exactly how to use this unique and effective design that I haven't seen used anywhere else. The good thing is this design is easy to make! You just have to read up on the know-how in my plans.
Time to Make
Experimenting with the design is the most time consuming part about making these mini sandblasters, but luckily I did all the testing and show you how to make it quickly. Just grab the parts that I list in Part 2 of the ebook which mostly can be gathered from your local hardware store. I even provide sources of where to order the parts so you can spend less time searching. Altogether this mini sandblaster can be made in less that a half day.
You can download my mini sandblaster plans today for

Only $4.99

!
Please note that this is a temporarily reduced price and will be raised up very soon. Get them today for only $4.99 before the price goes back up to the original set price.
The plans are available in a down-loadable PDF file.  Acrobot Reader is required to open and view the file.  If you don't have it, you can download it free on the internet which I will show you.
There are no shipping fees and you will be automatically re-directed to a webpage where the PDF file can be downloaded.
Instantly download your copy by clicking the button below:
100% Risk Free Guarantee:
If the plans didn't provide you any helpful information and you aren't 100% satisfied with the Ebook, then send me a quick email and I'll happily refund you in full within 30 days. This way you have no risk in getting my plans!
Questions About the Plans or Need Help with the Build?
Leave them below
---
Share this on social media or email by clicking below!