On-Site Plans for Pressure Pots
Make a Dust Free Sandblaster
That is a Portable, On-Site System while Saving Money!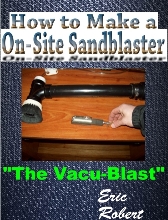 Now there are ways to sandblast without:
getting dust or abrasive everywhere
spending thousands of dollars on manufacturers equipment
wasting or losing your abrasive
using a sandblast cabinet
Part 1: Shows How to Make the Nozzle Head

You'd be surprised at how easy it is to make the main nozzle head with my design displayed throughout the plans. You can get the parts at most local stores inexpensively and I show you exactly where to get them.
It shows how to configure a vacuum system with a pressure pot sandblaster. But you can also use a siphon system and I discuss the positive and negative traits of using each type.
Part 2: Making the Sandblaster Nozzle Tip Configuration
In this section, I show step by step how to make the nozzle tip easily. (You need to make sure you do this right so the vacuum doesn't pull all the abrasive out before it can hit the surface.) It shows my unique way to have a variable control valve so the air pressure and abrasive can be adjusted from your finger tips.
Plus, it shows a inexpensive way to use hoses that will save you multiple times the price for my plans. It prevents wear on your parts so that you hardly ever have to replace them. You will be surprised at how I made my on-site sandblaster more maneuverable than those expensive equipment that companies sell.
Part 3: How to Complete the Assembly & Connect to Vacuum Source
Part 3 will show you exactly how to assemble all the main parts together and hook it up to a vacuum source. Then it explains my unique ideas to make the system more portable with wheels.
Part 4: A Better Dust Collection System (Optional)
In this last section, I will talk about a optional, but better way to recollect the abrasive. These are fairly simple components that you can make with the provided sources on how to make them and with links on where you can purchase them.
Download my On-Site Sandblaster plans & solve the dust problem forever
Only $19.99

!

The plans are available in a down-loadable PDF file. Acrobot Reader is required to open and view the file. If you don't have it, you can download it free on the internet which I will show you.

There are no shipping fees and you will be automatically re-directed to a webpage where the PDF file can be downloaded.

Instantly download your copy by clicking the button below:
100% Risk Free Guarantee:
If the plans didn't provide you any helpful information and you aren't 100% satisfied with the Ebook, then send me a quick email and I'll happily refund you in full within 30 days. This way you have no risk in getting my plans!
Questions About the Plans or Need Help with the Build?
Leave them below
---
Share this on social media or email by clicking below!