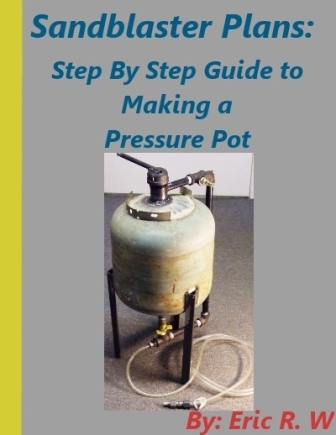 Make Your Own Sandblaster Exactly the way you want it With a better design & Save Money!
My newest sandblaster plans show you step by step how to make your own pressure pot blaster.  Each step of the way, I provide photos for each section and a detailed explanation of what to do.
These are my own uniquely designed and configured sandblaster plans which shows how to build with widely known parts available at local hardware stores.  I also show close up photos of all the parts needed and sources of where you can get them inexpensively.
Part 1: Shows Exactly How to Assemble Tank
The pressure pot sandblaster can be made out of old grill size propane tanks.  I explain how to do this safely and places to get them for free.  (Please be careful with this and follow my advice in the plans) Then the steps show me assembling each specific part onto the tank.
Part 2: Making My Unique Nozzle & Hose Assembly
The second part of my plans shows you how to make my unique nozzle assembly that lasts much longer than other nozzles.  Its also variable so you can control the amount of abrasive blasting from your finger tips. A third benefit, its very inexpensive and very easy to make- you will be surprised. These are excellent for etching, sandcarving, and for sandblasting inside cabinet booths.
This part also shows my self tested components and where to get them online all in one place.  Some of these components are in a high abrasive area so they need to be steel or iron.  Most hardware stores only carry the brass ones which will wear out very quick.  You can click the links to my favorite discovered sources.
But that's not all!
Since you are supporting the continuation of my site and purchasing today, I am also adding on 4 BONUSES. Over the past few years, a lot of my subscribers and visitors have been asking me much desired questions that these bonuses explain. For ordering today, I will attach the following bonuses:
Finding the Right Compressor Guide: This bonus shows a industry referenced chart which helps you find a air compressor to buy for your particular application. Included information about PSI & CFM air requirements for multiple different nozzle sizes.
Air compressor Types Guide: Explains the different types and sub-types of compressors used in the industry. Topics included Fuel & Electric powered and one stage & two stage. Shows pictures of each type and disadvantages for each.
New Abrasive Problems Guide: This is my latest discovery of why a lot of people are still having abrasive flow problems.  Along with a simple solution and diagram showing you what the problem is inside.
Sandblasting Safety Guide: A much needed industry guide to talk about safety, silicosis prevention, and safety gear with sources.
Download my sandblaster plans and extra bonuses today for

Only $17

!
Please note that this is a temporarily reduced price and will be raised up very soon. Get them today for only $17 before the price goes back up to the original set price.
The plans are available in a down-loadable PDF file.  Acrobot Reader is required to open and view the file.  If you don't have it, you can download it free on the internet which I will show you.
There are no shipping fees and you will be automatically re-directed to a webpage where the PDF file can be downloaded.
Instantly download your copy by clicking the button below:
100% Risk Free Guarantee:
If the plans didn't provide you any helpful information and you aren't 100% satisfied with the Ebook, then send me a quick email and I'll happily refund you in full within 30 days. This way you have no risk in getting my plans!
Questions About the Plans or Need Help with the Build?
Leave them below
---
Share this on social media or email by clicking below!