As you may or may not know, a sandblaster can be used for a lot of different hobbies. One hobby or business venture of using a sandblaster is for glass sandcarving or glass etching as an custom art service. This is one of the funnest hobbies I have ever encountered. I think you might like it too. Below is a picture of a sandcarving based on a line pattern.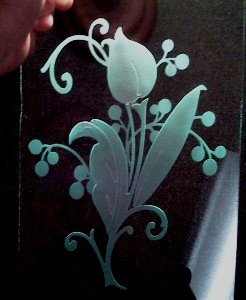 Sandcarving is interesting because it can be done on other substrates too such as wood, metal, concrete, or stone.
Carving can be done in one or a series of steps as described below:
Single Stage Carving: this is when one layer is carved deep with high pressures.
Double Stage Carving: This is when you carve one deep layer and another light layer after to create a dimensional look.
Multi-Stage Carving: The process of carving three or more layers of varying depths to create a three dimensional effect in glass.
The more detailed the patterns are and the more stages that you do can increasingly become more complex.  They also become more time consuming.
You can do more artistic things than one would typically think about.  If your interested in learning how to do this, please contact me or read my updated sandblasting blog every once in a while.  I am always working on creating tutorials and may open up a membership site soon to show people how to sandcarve.  One way to keep updated is to subscribe to the newsletter on the right.
---
Share this on social media or email by clicking below!