Sandblasting stencils are vinyl or rubber sheets that are cut out with designs.  The cut out stencils are typically used for sandblasting designs into all types of materials such as rock, small stones, brick, metal, wood, or glass.  This is also known as engraving, etching, or sandcarving.
Typically the sandblasting stencil has to be a thick layer at about 5 mils and larger but I have found out that I sandblast with a thin 3 mil stencil when I use fine abrasive media grit.  I can even carve fairly deep with it too so as long as the abrasive is at a fine scale, the media won't penetrate through the stencil.  Below is an example of a current project that I am working on with a cut out stencil logo of someone's business: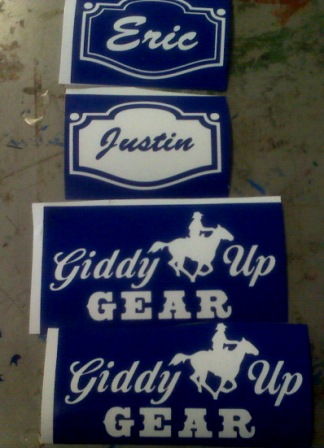 Basically, I cut out the stencil with a removable backing layer which you peel off.  Then you apply the stencil to the object that you want to sandblast and mask around the edges to prevent overspray.
In this case, I will be sandblasting glass beer mugs.  One side will have the business logo and the other side will have the persons name with a little design that I included.  All the white areas will be the areas that gets sandblasted.  I will show you want the glasses look like when finished in the next post.
So please leave a comment below and I will answer any questions you have here.  Thanks
---
Share this on social media or email by clicking below!