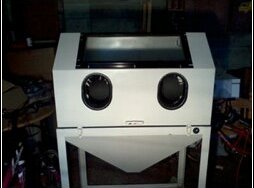 Item Has Been SOLD
This person contacted me about selling her equipment which is still in the boxes, and I offered her a classified ads spot. I don't know her personally, so ask her any questions by emailing her or leaving a comment below. She provided the following description:
SCM Sandblasting Equipment For Sale
Paid $3195-willing to take $2800 or best offer.
Unused- Jet Stream Two with all filters, exposure unit, 100 lb. pressure pot, cabinet, hoses, Tungsten-Carbide Nozzle, Foot Control, Abrasive Sand, Dust Collector, Trigger Jet Sprayer, Complete Video Training
The Jet Stream Two can carve into stone, glass, tile, wood and more. It can carve deep as well as high precision detail. Photo Image stencil maker also. It is portable. All equipment is still in boxes never used.
AN AIR COMPRESSOR RATED AT 8CFM AT 90PSI OR HIGHER IS REQUIRED TO OPERATE THE SYSTEM. NOT INCLUDED
This system has now been sold. But you can check out this one here.
---
Share this on social media or email by clicking below!