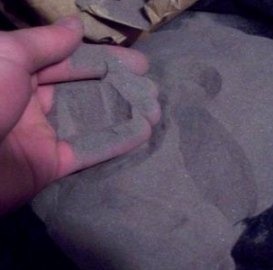 In the past, I talked about the different kinds of sand used for a sandblaster which stated that play sand has silica in it.  That was one of the reasons why I suggested that people should not use it.  Just about all sandblaster approved abrasives may still release silica even if it's recognized as a much safer grit than play sand.
More important, the facts are that play sand has a high amount of silica in it.  Most others just have a smaller amount and even if they don't have any silica, they might release some when the abrasive hits the other surface you're blasting.  So when your blaster blows the abrasive onto a surface, the sand will break apart slightly, releasing dust in two possible ways.
As I previously stated, it can release silica into the air in one or both of the following ways:
Abrasive emits silica in the air from dust when it breaks apart.
Abrasive hits component and breaks up particles from the surface.  Surfaces such as rusty metal or glass can release harmful particles.  Glass has silica in it; so if you're blasting glass, silica will be released into the air no matter what media you're using.
With that said, be safe and smart.  Read some of these suggestions about sandblasting safety and what gear you should use.  Leave a comment, share, or bookmark.  Thanks
---
Share this on social media or email by clicking below!