This is a response to a subscriber from the past sandblasting basics question and her operating problems.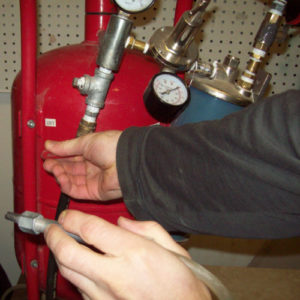 Hi Barbara,
First of all- thanks for your purchase and sorry for the late response.
Pressure Pot Funneling Problem
All the information that is in there does help solve clogging problems but there is one other thing that I will be adding to the information.  I found that a good 15 lbs of the abrasive piles up on the bottom edges and sides.  So when my sandblaster is filled up to full capacity, over 37 percent of the abrasive is unusable!
Fixes
Please see the photo in the plans which shows how all the abrasive doesn't get funneled down. To overcome this, you will need to purchase more sandblasting media and keep it quite full. The plans do show others ways to fix this.
Operating Pressure Pot
To operate the sandblaster, fill up the tank and then open the nozzle valve to let only the air to come out.  Once the air is coming out, then you're suppose to open the abrasive mixing valve to your preference.
Dead Man Nozzle Valve vs. Other Nozzles
Also, I know what you mean about the dead man valve.  It really does wear out your hand. I haven't tried using a siphon nozzle so I am not sure if it would work.  It might not since the trigger operates differently.  Its worth a try though. A guy manufactures these guns for pressure pots but they are expensive so I made my own PAB type blaster.
It only cost me about $10 to make.  I am working on writing plans for it.
Let me know if you need any more help.  Thanks! By the way, I like your work too.
---
Share this on social media or email by clicking below!