Hey, Eric. I've been designing, cutting and making stained glass windows for over 30 years, but am just getting into sandblasting (had a friend give me a blasting cabinet). Aside from your site, I see you have some reading/reference material for sale. Can you please advise as to what all is available that I might get to help me get started and evolve quickly (with practice of course!). Thanks in advance!

Mike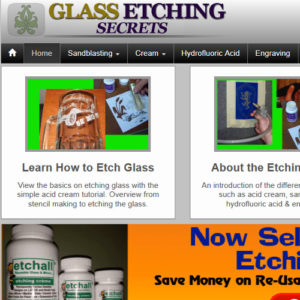 Hi Mike,
If you are looking to learn about sandblasting specifically for glass etching, then you will want to check out my other site called Glass Etching Secrets.
I have a membership area there for it also, along with a ebook. Check it out and let me know if you have any questions.
---
Share this on social media or email by clicking below!