Hi Eric,
I have purchased your manual and got a lot of help from it, but I have questions about stencils for stone work and stencil filler. I am using stencil filler to mount my stencils on the stone but then I find that the blaster wont cut through the glue that in on the stone. It bounces off of the stencil filler just about like it does off of the stencil itself.

How do you get around this? Is there a good way to fasten the stencil to the stone without this glue or stencil filler? Or is it that I don't have enough pressure? I am using a 20 gallon pressure pot with a gas compressor rated at 10 cfm at 100 lbs pressure. I have just ordered 2 mm nozzles. I am now using 3.5 mm and am having problems keeping up the pressure.

I have seen videos of folks using something other than stencil filler, but I don't know what it is that they are using.
Maybe you could help me out.
Any advice would be appreciated.
Thanks. Allen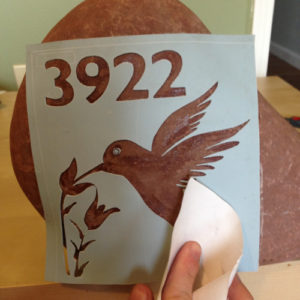 Hi Allen,
When I worked for a shop that sandcarved stone, we did it the same route by applying the stencil filler to the full front surface of the rock first. This works with the large sandblast systems that use large nozzles and course abrasive grit. I think we used a sandblast hose with a 1-2″ diameter which could feed a whole lot of abrasive to abrade away the stencil filler exposed in between the stencil openings at a higher rate. Although that still could take a bit more time than I liked to wait.
Here are some tips to overcome this problem of blasting through the filler adhesive:
In my rock blasting course, I teach another technique of cutting out the stencil first and applying the filler only to the stencil. There are pros and cons doing it this route, but for the most part works well. We also show you effective spray adhesives so you don't have to brush the filler on.
There are different types of stencil fillers with some that are lighter grade too. You can also dilute the filler so it is thinner and easier to blast through.
I sometimes heat up my stencil onto the rock with a heat gun so that it contours to the rock surface better and adheres better. But this usually is more helpful for thinner stencil materials.
That air compressor sounds about right for the 2mm nozzle but the 3.5 mm nozzle might be too big for the compressor at that air pressure. You can check out this air compressor chart.
Thank you for the purchase and let me know if you have any other questions.
---
Share this on social media or email by clicking below!