There are two main components used to aim blasting abrasive: the nozzle configuration which usually consists of a valve and the tip.
Sandblaster Nozzles
There are many types of nozzle configurations available from those that have a simple ball valve to those that are trigger controlled with variable flow, but it first depends on which type of sandblaster you are using.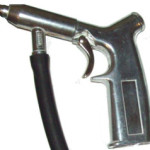 1. Siphon Nozzles
This type of sandblaster traditionally has one type which allows you to use a trigger to control the on/off and usually can be controlled variable to some extent.
2. Pressure Pot Nozzles
This type has many options such as:
Ball Valve Nozzle– consists of a ball valve to turn the abrasive on or off.

Pros:

Inexpensive and simple.

Cons

: Can wear out quick, and requires uncomfortable on/off control process (has to be fully on or off).




Foot Controlled Nozzle– consists of a simple open nozzle with a foot switch to operate the abrasive flow.

Pros:

Comfortable to operate with no hand motions.

Cons

: Can be expensive and not work well with in-adequate air supply. Can lag in abrasive cut-off.




Variable Flow Trigger Nozzle– a company makes these to control the abrasive flow in a variable/adjustable trigger fashion. I have made a DIY version of this here and created a similar foot controlled version of it here.

Pros

: Easy to operate with hand trigger and can vary the pressure and abrasive blasting.

Cons

: Can be expensive. Requires replacement of tubing often. Can cause hand fatigue after longer periods of use.
---
Nozzle Tips
The tips are the number one part on a sandblasting unit that wears out.  It's no surprise since the nozzle tip is in the most abrasive area of the unit.  At the tip, the flow of media is compacted into a more narrow stream so that the output is stronger.  They will obviously wear out quicker if your blaster has a high abrasive to air ratio.  To reduce the wear on your sandblaster tips, I recommend that you adjust the valve to a less abrasive to air ratio.  If you don't have course grit, you can also replace the standard large chunky hose with a smaller diameter hose like I showed in my sandblaster plans.
Now I will list the different types of sandblasting tips and the rank durability for each (Number 1 being the longest lasting:

Carbide Tip: These are the most wear resistant nozzle tips available for sandblasting.  They cost a considerable amount more than other nozzles but they typically are more cost effective since they last the longest. They are also more ideal when sandblasting with harder abrasives like silicon carbide & aluminum oxide. You can actually save money by using these over ceramic & steel tips. The cost varies from about

$30- $170

.  There are also different types of carbide nozzles listed below:
– Composite Carbide Tips– A few supply companies manufacture their own highly resistant composite carbide which is the longest lasting tip.
– Boron Carbide Tips– This is the second longest lasting carbide tip.
– Tungsten Carbide Tips– Tungsten is the third longest lasting carbide tip.

Ceramic Tips: Ceramic nozzle tips are the second longest lasting type overall and are the most common material used.  They wear out a lot quicker than carbide but are a lot cheaper with cost around

$.50 – a few dollars each

.

Steel Tips: Steel can wear out very fast especially with harder abrasive.  These are most common with siphon sandblaster units since there isn't as much pressure resulting in wear.
---
Share this on social media or email by clicking below!