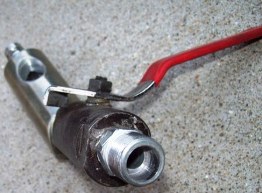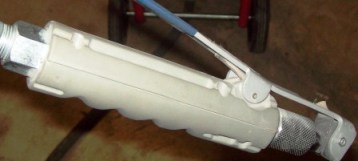 Parts that wear out the most and the quickest always tend to be the ones that have direct contact with the abrasive.  Makes sense doesn't it?  Well, here is a list of sandblaster parts usually needed for operation:
Nozzle Tips:  These are usually ceramic.  The cheaper ones are made of ceramic and others are made of different materials.
Abrasive Hose:  Another item that has direct contact with the moving abrasives. I like to remove the chunky hose and replace it with smaller diameter one that I showed in the build your own plans.
Mixing Valve:  The mixing at the bottom of the sandblaster is where the abrasive meets the other air source.  Basically its where the abrasive gets mixed with more air and shot through the hose to the nozzle.  The valve will wear out through time, especially with the cheaper brands.
Safety Relief Valve: This is a valve commonly used in the pressure pot types.  Its basic function is to prevent the tank from filling up with too high of a pressure. It basically releases air when it gets over pressurized.
---
Share this on social media or email by clicking below!