Trying to figure out why your sandblaster is surging or clogging?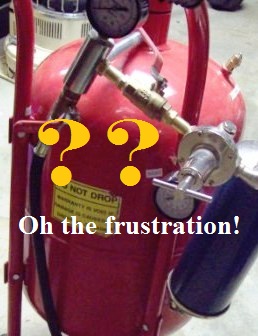 Well, I have some solutions for this in the sandblaster manual and some simple things to look at below.
People have been coming to me saying that while they were blasting the sand will start surging. First you will start out with a bunch of sand and the next minute- none at all. It can be really hard to work on a project and then this surging happening right in the middle of the job. What a pain!
Some people state that the system seems to be full of sand and gets clogged up even though the air is perfectly dry. Then they blow it back out and it works for a little bit longer.
Why is the sandblaster surging and clogging?
Here are some of the things to ask yourself:
1. Is the sandblasting media all the way dry?
2. Is the media a proper size for the blaster's components such as the hose, pickup tube, and nozzle? Make sure its not too course because it could be jamming up the system.
3. Is the rubber pickup hose deteriorated inside? Abrasive could bind up on non smooth internal parts.
4. If you have a siphon sandblaster system, have you tried moving the pickup tube to various depths? A tube placed at different depths may work better.
If non of these help, you may want to consider picking up my sandblaster modification plans to fix abrasive flow problems. See, manufacturers aren't always perfect and this can help solve that problem.
---
Share this on social media or email by clicking below!