Although this website and other product listings throughout the internet use the term "sandblasting" to refer to this industry, sand in any form is NOT USED in the industry and SHOULD NOT be used, for many reasons. Essentially this term is not correct nor professional terminology for the industry. The term of "abrasive blasting" is more preferred.
Why Use Sand Terminology if Not Used?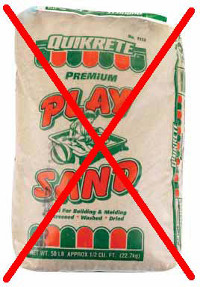 The reason I and some equipment distributors use the term "sandblaster" is because most people recognize this term the most, and whether sand was commonly used in the old days or not, the term has been traditionally used. I simply use the term sandblaster to relate to what you and others are looking for more often.
Most of you coming here may have never found my website if I didn't use this term. I have always described my equipment as sandblasters even before this website was created. It is just the most used term that has subconsciously sunk in my head through many years of working with it for smaller projects around the garage and with my hobbies.
The sandpaper industry still uses the word "sand" to describe its products even though sand is not used. Some of the common materials found in sandpaper are garnet, aluminum oxide, and silicon carbide. It is a little bit surprising to me that sandpaper manufacturers haven't phased the word out. I suspect they haven't phases the term out because it isn't as important due to less dust being created and the correct abrasive is already supplied to the paper for consumers which doesn't cause a misunderstanding in them using the wrong abrasive.
Abrasive with High Silica Amounts & Correct Type
With that being said, you should know that sand contains a high amount of silica which is released into the air in a dust form upon impact during blasting. Do not use regular sand, play sand, any form of sand, or silica containing abrasive when blasting. I discussed about this a few years ago in this post about silica and in this interesting post.
Also, do not use any type of abrasive that contains a large amount of silica. Use only blasting approved abrasive because most of it has very little to no silica. You may download and read my free ebook here which lists some of the typical safe abrasives to use. Even though glass is traditionally known to have high amounts of silica, glass blasting approved abrasives such as crushed glass and glass beads have almost no silica because it is made from chemically inert soda-lime glass.
Silicosis
Sand and other silica containing abrasives should not be used because the air-borne silica can be breathed in and cause silicosis. Silicosis is a horrible lung disease which can prevent it's efficiency of breathing in oxygen and cause breathing problems.
Terms of Use
Using this website, you must agree that I will not be liable for using the words "sand", throughout any of my words, web pages, and ebooks. Don't use sand. Please note that when I am using the word "sand", I am generally referring to a granular abrasive of only approve blasting medias.
---
Share this on social media or email by clicking below!