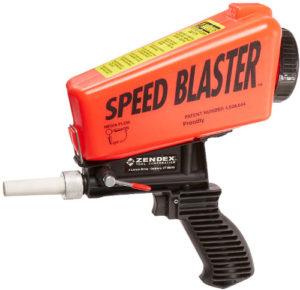 I decided to create this post to talk about one of the lower cost sandblasters that are available for sale through out the marketplace and a good source of where to order it online. This blaster is called the Unitec Speed Blaster as shown in the photo below and it ranges anywhere from 40 to 60 dollars.
I rather liked this gun even though it's a low powered siphon blaster (I like the pressure pots better) because it is gravity fed. This means that the sandblasting abrasive is fed into the gun by gravity which is better because it will typically be less likely to have problems getting the abrasive to the gun. Most siphon systems suck the abrasive from below and I find that problems arise too often. Its rather annoying.
The other good aspect about this is its fairly easy to maneuver and the whole system is together in one piece.
The only bad thing about this is the hopper on the top isn't very large and the abrasive will likely need to be refilled often unless your using it for very small jobs which actually what its made for anyway.
There are reviews about this too and they all seem to be good. You can order it through Amazon on the following link here: Unitec (UNI007B) Speed Blaster Sandblast Gun
---
Share this on social media or email by clicking below!